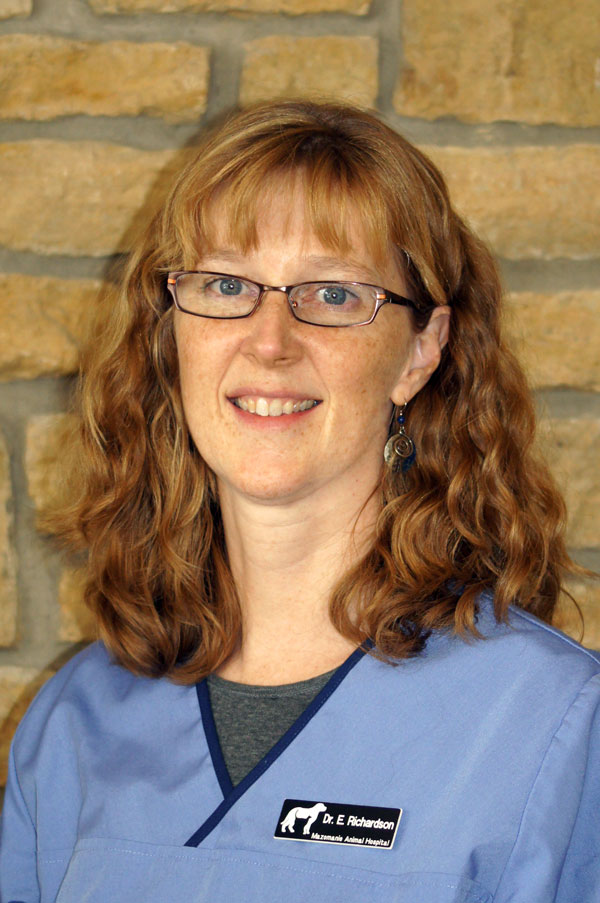 Dr. Ellen Richardson
mazodvm@mazoanimalhospital.com
Dr. Ellen Richardson was born and raised in Massachusetts and moved to Madison to attend school. She fell in love with the Madison area, and quickly determined that Dane County is where she wanted to put down roots. After graduating with Honors from the University of Wisconsin-School of Veterinary Medicine in 1992, she spent the next ten years mentoring with other veterinarians, until opening Mazomanie Animal Hospital in 2002. Dr. Richardson and her husband Ken live in Cross Plains and have two school aged sons. They share their home with three cats, (Henry, Stripes, and Bandit), and a miniature poodle, (Belle). Dr. Richardson enjoys getting to know clients and their families while providing individualized medical care to pets over their lifespan. Her practice interests include client education, soft tissue surgery, internal medicine, and dermatology. In her spare time she enjoys gardening, reading, and kid-related activities.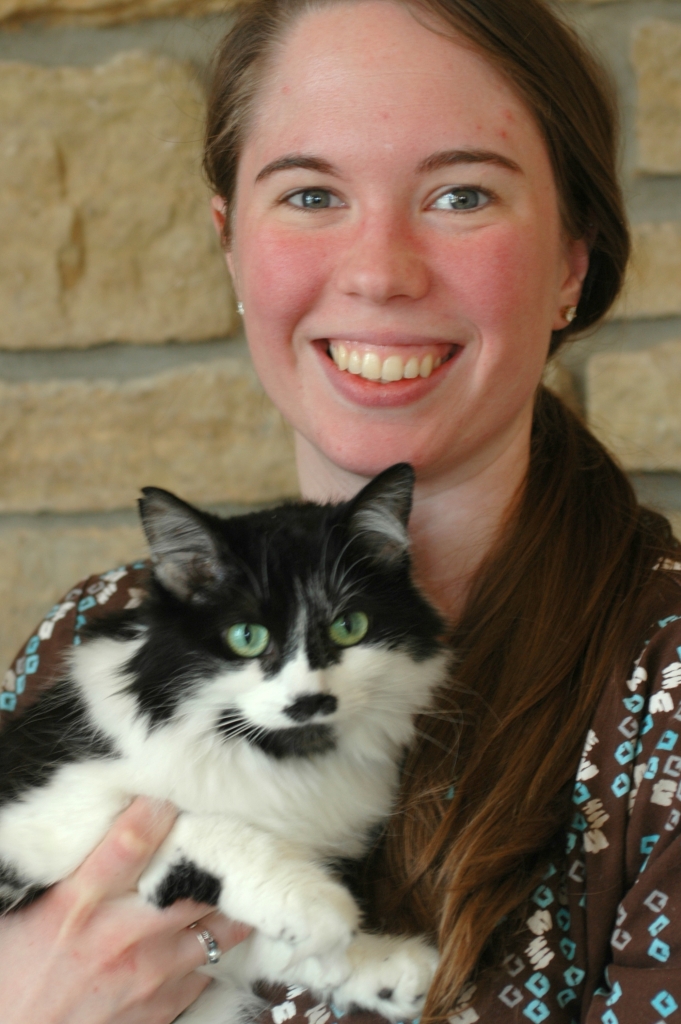 Ellie Vanderloop, CVT & Prima

Ellie is a lifelong Wisconsin resident, growing up in Menomonie and receiving a Bachelors degree from UW-River Falls in Animal Science. She completed her education at MATC in 2013 where she received her Veterinary Technician degree. Ellie grew up being active in 4-H and Girl Scouts, and is familiar handling many species, both large and small.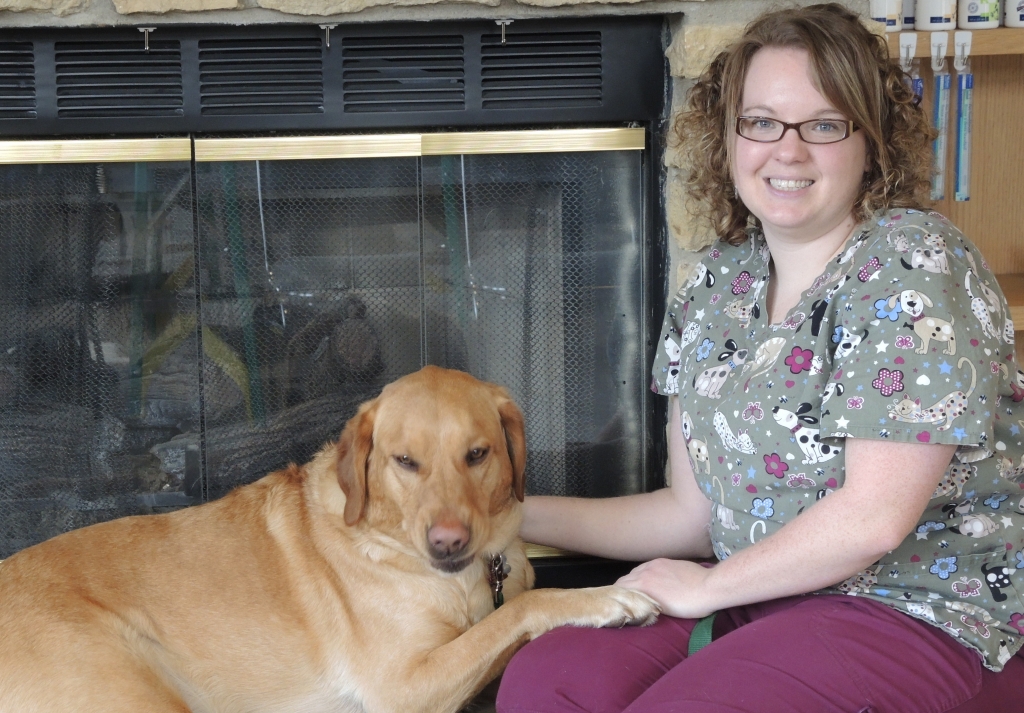 Mariah Kaukl, CVT & Finn

Mariah grew up in Richland Center and received a Bachelor of Arts Degree from UW-Madison in 2007. She then went on to complete her Veterinary Technician degree at MATC in 2013. She has experience volunteering for Dane County Humane Society and Dane County Friends of Ferals. Mariah shares her home in Mazomanie with her "four-legged son" Finn, a Golden/Lab Retriever Mix. In her spare time she enjoys reading, movies, and watching Packers football with family.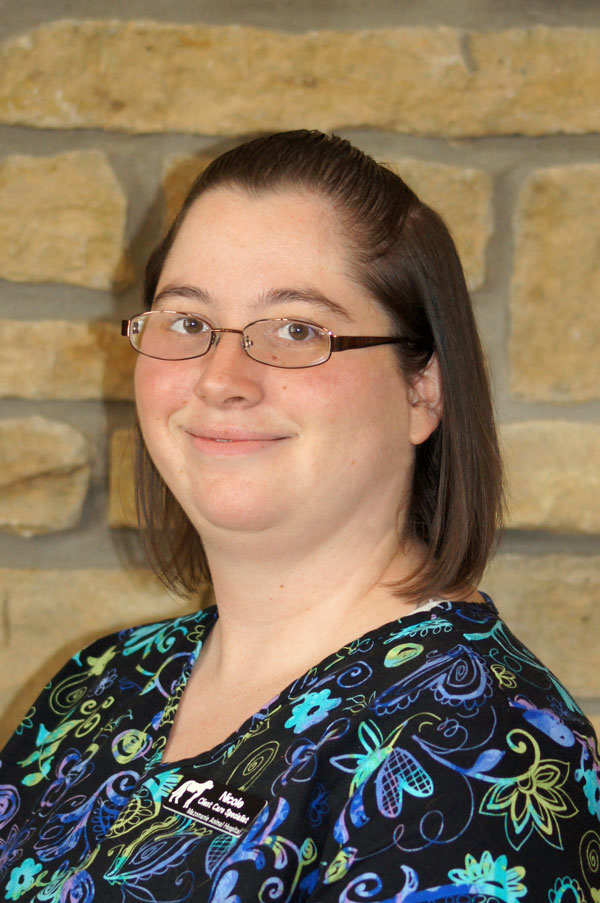 Nicole Heins, Client Care Specialist
Nicole joined our staff in 2012. She has experience working with shelter animals at Iowa County Humane Society and also works after hours as an EMT in the Dodgeville area. Nicole and her husband have two school aged daughters, and two Golden Retrievers.
Hillary Knobloch, Veterinary Assistant

Hillary volunteered at our clinic for several years as a youngster, before becoming a regular member of our staff. After graduating from UW-Madison, Hillary moved on to another career, but still occasionally fills in on busy Saturdays.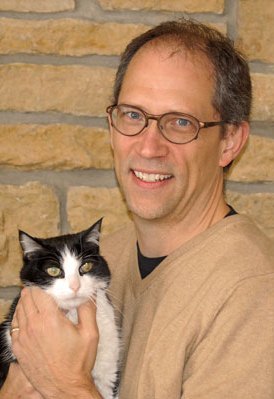 Ken Richardson, Administrator
ken@mazoanimalhospital.com
Ken Richardson joined our staff in 2007 to help manage our growing practice. His experience includes over 20 years at B.J. Electric Supply in Madison, where he was a former employee and then owner/manager. His interests when he is not solving problems at the clinic or chasing kids at home include studying literature, music, and history.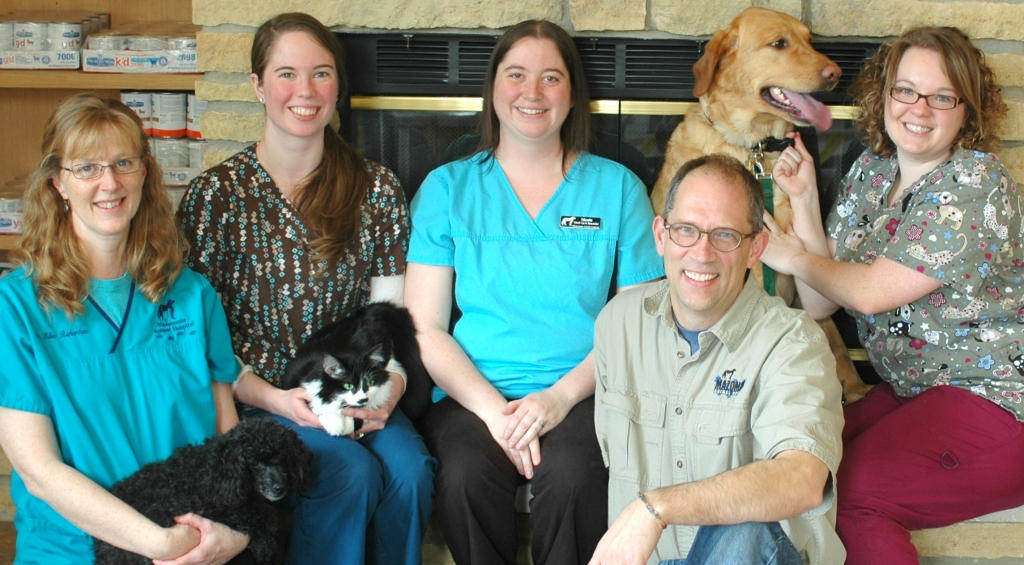 Please stop in for a tour, visit or make an appointment. We have numerous years of experience in providing for and caring for your companion animals.